A PLC Programmer is one of the highest paying jobs in the PLC engineering industry and manufacturing sector. They work with programmable logic controllers, which are small computers. The logic controllers feature built-in interfaces, an operating system, and inputs and outputs typically used to load user programs. They are connected to a machine and can help control its desired functions. A PLC acquires information through inputs such as sensors, relays, and more. They interact with a variety of outputs, including valves, engines, and conveyor belts.
By acquiring a PLC programming job, you have the opportunity to design sophisticated monitoring and control systems across industries, including steel, oil, and gas. As a leading recruitment agency in Toronto, we often get candidates asking how to land an excellent job as a PLC engineer and establish a successful career. Read on to learn how you can get started.
What Does a PLC Programmer Do?
PLC programmers typically work in the manufacturing sector, IT companies, and the electrical engineering field. They are mainly responsible for the maintenance and monitoring of plants and machines that use programmable logic controllers. There are specific skills that you need to have as a PLC programmer to accomplish your responsibilities. The experts in our recruitment agencies recommend looking for a PLC engineer job by industry to find a position that meets your needs.
Job Profile of a PLC Programmer
The job description for a Programmable Logic Controller programmer includes the following:
Designing control and regulation programs
Visualizing processes
Development and optimization of programs
Monitoring and implementing fault diagnostics
Tasks and Responsibilities
A PLC programmer is required to design control programs for electrical systems and machines to help automate processes. They are in charge of developing and optimizing processes, performing fault diagnostics, and maintenance tasks. In addition to this, the PLC professionals are responsible for visualizing the systems so they can come up with ways to increase the overall operability.
The programmers work in sales to offer training and customer service as well. They are responsible for familiarizing clients with the application and use of a PLC system and providing recommendations on potential conversions.
How You Can Become a Qualified PLC Programmer
Obtain the Educational Requirements
If you want to establish a career as a PLC programmer, it helps to have a bachelor's degree in electrical engineering, computer science or mechanical engineering. Having a master's degree can help you secure an excellent job. Some employers may also consider applicants with an associate's degree in the electrical or technical fields.
Get Vocational Training
PLC programmers are typically trained on-the-job to help gain expertise specific to the sector. Having a background in computer programming, computer science, and engineering can help you learn each job responsibility easier. It helps to know about PLC programs and tools to land a good job.
Skills Required
Programmable Logic Controllers
Robot Programming
Schematics
Electrical Experience
AutoCAD
Robotics
SolidWorks
Fanuc
Mechanical Knowledge
Distributed Control Systems
Controlling Experience
Ethernet
In addition to the technical knowledge and an aptitude for programming, math, and computer science, it helps to have the following:
Ability to work in a structured environment
Analytical thinking
Good communication skills
Problem-solving skills
A high degree of personal responsibility
Career Path for a PLC Programmer
After working as a PLC programmer, you can move up in your career as one of the following:
Controls Engineer
You will be responsible for designing, developing, and overseeing electrical control equipment and systems. You will be in charge of the projects, right from the initial stages of concept development to installation and commissioning. You may also assist cross-functional teams in accomplishing the desired results.
Automation Engineer
An automation engineer is responsible for creating design specifications in detail and develop automation software that caters to specific requirements.
Further, you can get qualified for a Project Manager position in your organization or become a Senior Electrical Engineer or Senior Engineer. You will be responsible for the following:
Provide technical assistance to team members and other teams in the organization
Leading a team of engineers to review the designs and plans for a system
Establish relationships with vendors, clients, and suppliers
Produce working schedules
Ensure the projects are completed on time and within budget while following the company regulations
Attend conferences and events to enhance knowledge and expertise
The next level in the PLC Programmer's career path is becoming a Principal Engineer, Engineering Manager or Senior Project Manager. You will be responsible for developing script tools along with configuring revision controls and mechanical databases. Some essential skills for this role include the ability to assist multiple departments, manage resources adequately, and communicate with clients and vendors to ensure they are informed of the progress in a project.
With experience and knowledge, you can climb up the ladder to become a Technical Manager, Engineering Supervisor, Facilities Maintenance Manager, or Engineering Director. You will be in charge of coordinating and supervising all the engineering activities in your organization and ensure all the safety protocols are correctly followed.
We Can Help You Establish a Successful Career as a PLC Programmer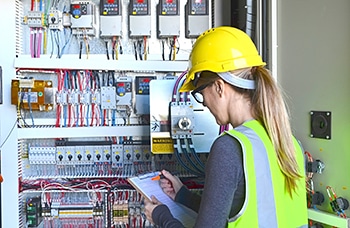 Winters Technical Staffing in Toronto has the experience and resources to help you land a job that meets your specific needs. We are committed to helping qualified individuals connect with employers across various industries, including manufacturing, engineering, construction, automotive, electronics, and more. We have a team of staffing specialists to understand your requirements and recommend suitable job opportunities with top organizations. Our experts will offer unparalleled support and make the job search process less intimidating and tedious.
If you are looking for a job as a PLC Programmer, you can speak with one of our recruitment professionals by calling 416-495-7422 or filling out our online form. We will be happy to assist you with finding a job in this field and helping you meet your career goals.